Our first website
launched in May 2016 and a lot has changed since then. We realised it
was beyond time for our website to refresh visually, and functionally.
That we have a very creative and talented inhouse website development team,
which designed this website, is just one of many.
Same values, better
defined.
What started as a one woman passion has now
expanded into a diverse techteam based in UK and India.
#teamiEngageIT has grown from strength
to strength, we've moved offices, expanded our technical capabilities, have developed
variety of innovative and exciting solutions in cutting edge technologies, and
have clients in UK/EU/USA.
But it's our deep belief and commitment to our values and vision which
guide us on our journey of achieving greater heights. Team iEngageIT shares
them with you here>> .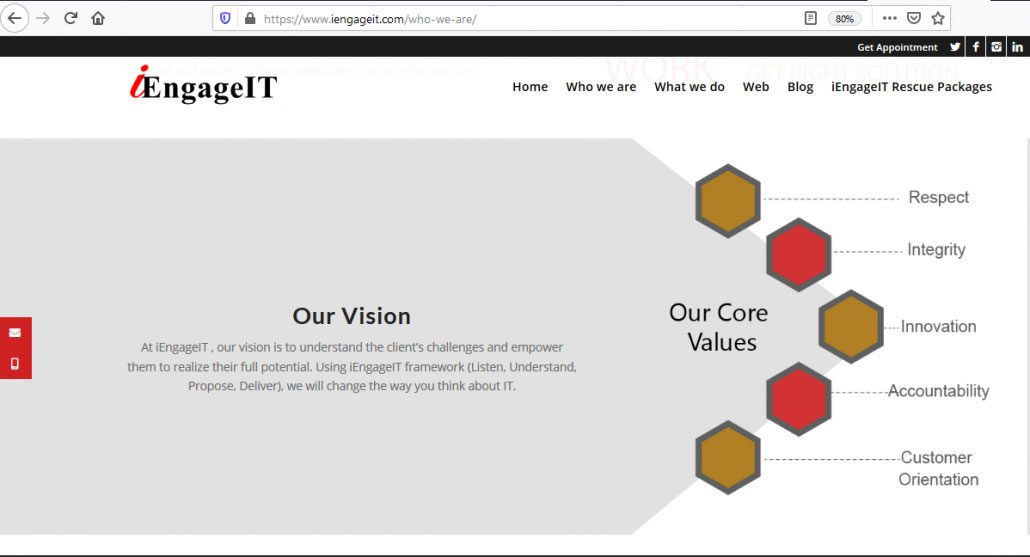 Contextually.
It's important to show who we are as a company, but even more
important to tell what we can do for them to help their business succeed. We
truly view every client and project as a partnership, so we wanted to reflect
that throughout the site.
So, how did we accomplish this?
Highlighted our unique itap (iEngageIT technology
alliance partnership) on the homepage with option to download the whitepaper
from website.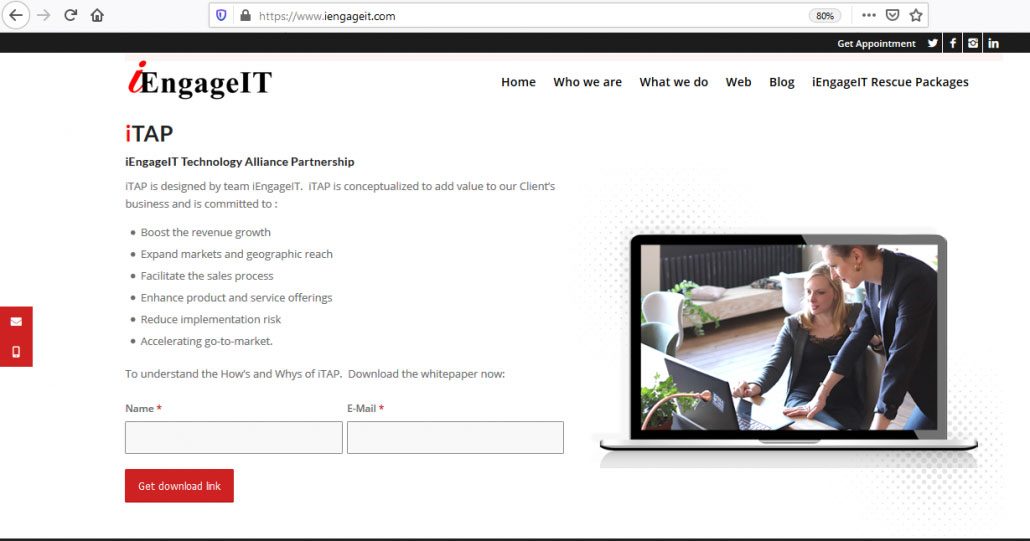 Highlighting the iEngageIT services on the homepage
with an easy to understand picture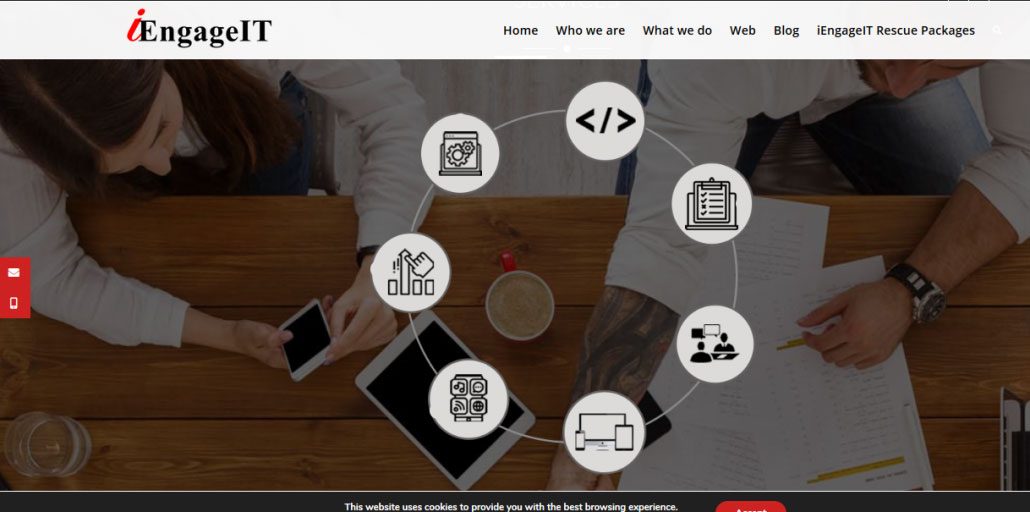 and a more robust services page that not
only lists our services at a high level but dives deeper, detailing each service
on its own page .
Highlighted details of GDM (Global Delivery Model) and it's benefits
on the homepage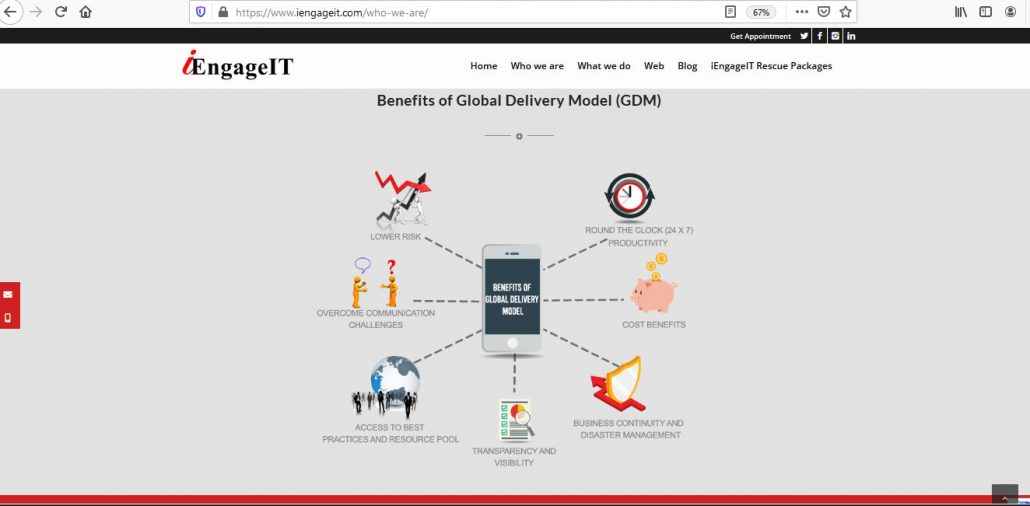 Added a ''Get an Appointment' link that is
carried throughout every page of the site making it easy for visitors who are
interested to contact us directly through their preferred mail app.
Added sticky buttons throughout the website to guide and make it
easier for visitors and users to get in touch with us.
Integrated Facebook messenger for all those who prefer to chat
directly rather than send emails/or call directly. The chat is instantly replied
by a member of #teamiEngageIT 24*7.
Built a better blog. This is something we've intended to do
for a while but always struggled to make it happen while balancing client work.
This year we made it a priority. We will also add categories and will
eventually be adding a blog search to make it easier for visitors to filter
through and find the content that is most relevant to them.
Added client testimonials on the homepage so you can learn about us
directly from our clients.
We are passionate and dedicated to the cause of making
technology and it's benefits accessible to all. We run a free IT support
session for all and you can find details here
Visually.
Our branding didn't need a
complete overhaul by any means, but after three years, it definitely needed a refresh.
We set out to enhance the look of the site both aesthetically and to improve
usability.
So, how
did we accomplish this?
Added a Video filmed inhouse in our Belfast office between our
two team members Mani and John page to enhance interest through motion, as well
as tell the story of our GDM Model and capabilities.
Added a brand-new service page for our support services. Our
support services are designed and built by ITIL certified inhouse consultant.
We added a very simple and easy to understand visual tables for various support
packages here.
Selected new fonts to give ourselves more versatility. We still
paired but we selected fonts that offered more styles and weights.
Pulled in larger, full-width images to better showcase our work
on both the home page and throughout each featured work page.
Brought in more photography highlighting our services, our
process, and our team to give visitors a glimpse of who iEngageIT is for those
clients that haven't yet met us in person.
We hope you've gotten a chance to browse around a bit and enjoyed the new experience. This was a true team effort and we're excited with the result but let us know what you think – after all, it's all about you. Do you like it? Or, how can we make it better? We always want to know how we can improve.
https://res.cloudinary.com/iengageit/image/upload/v1585920621/iEngageIT/iEngageIT_Logo-1.png
0
0
ritu.bhatt
https://res.cloudinary.com/iengageit/image/upload/v1585920621/iEngageIT/iEngageIT_Logo-1.png
ritu.bhatt
2020-02-20 00:31:11
2020-04-06 06:49:44
Introducing iEngageIT's new website